QWO Cellulite Injections
Conveniently located to serve the areas of Lexington, KY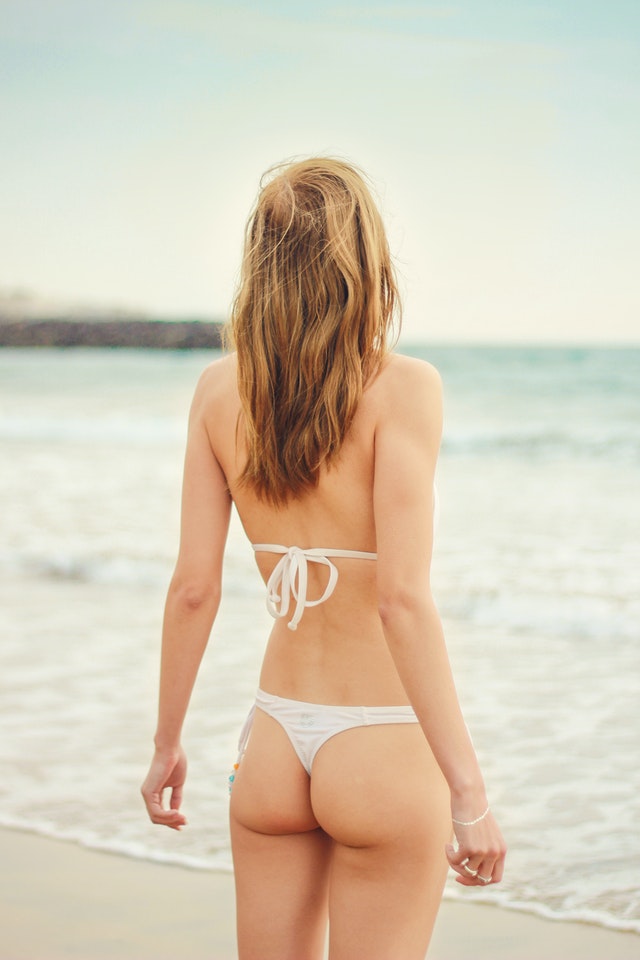 Qwo is an effective new injectable treatment for women with moderate to severe cellulite in the buttocks. It is the first and only FDA-approved treatment for this specific problem. (1) Most women will develop cellulite at some stage in their lives. Characterized by surface dimpling and rippling, this condition creates an uneven, unflattering texture in the skin. Some people liken its appearance to that of orange peel or cottage cheese. 
Visit Plastic Surgeons of Lexington for a Qwo treatment to reduce the appearance of your cellulite and achieve a healthier-looking, better-contoured behind! Rid yourself of the aesthetic worries of cellulite by receiving the highest quality treatment at our state-of-the-art location.  Book your personal consultation today by calling our front desk at (859) 276-3883 or filling out our online inquiry form.
About Cellulite
The medical term for cellulite is gynoid lipodystrophy. It is also known colloquially as "orange peel syndrome."
Cellulite is located mainly on the pelvic area, including the thighs and the hips, though the most common area it is found in is the buttocks.
The lumps and bumps on the skin's surface in cellulite are caused by fat cells' interaction with the fibrous cords that separate them. As the fat cells increase in size, they push against the skin, and the tougher connective tissue that anchors each cell in place holds firm, creating the familiar dimpling effect.
Cellulite isn't quite the same as regular fat, so many traditional treatments do not work well to resolve it. 
Your diet doesn't affect how much cellulite you have as much as you think it does. Although a healthy diet may reduce the risk of getting cellulite, even people with the healthiest lifestyles have it. Cellulite is thought to have both hormonal and genetic components, so although diet may contribute, there are other factors involved.
In more serious cases, severe cellulite can result in nodules and sclerotic lesions (unusual hardening or thickening of tissue). Patients may experience skin soreness, dryness, and thinning of the tissue covering the changed area. (2)
What Causes Cellulite?
Cellulite is an unsightly feature that many of us could do without. In many cases, it is seemingly indiscriminate, as it affects people of all different ages, shapes, and sizes. But, although it does affect a small percentage of men, it is far more common in women. In fact, studies estimate that around 85% of women over the age of 20 have some degree of the condition. The high prevalence of cellulite in women is closely linked to skin and subcutaneous tissue differences in women. And, though no exact cause is known, evidence suggests its presence or absence is closely linked to the female hormone estrogen. (3)(4) 
Cellulite Treatment
Many cosmetic products and procedures exist to treat cellulite, each with varying levels of effectiveness and long-term results. Unfortunately, there is limited scientific evidence to back up many of the claims purported by many of these cellulite treatments. Noninvasive techniques for the condition involve massaging devices, cosmeceuticals (products with bioactive ingredients), and laser therapy. Additionally, there are also less invasive surgical treatments such as subcision, a technique that is also used to treat acne scarring, and injectables. (5) Qwo injections enable patients to address their cellulite directly, targeting and smoothing contours and leaving you with a new, youthful-looking behind.
Benefits of Qwo for Cellulite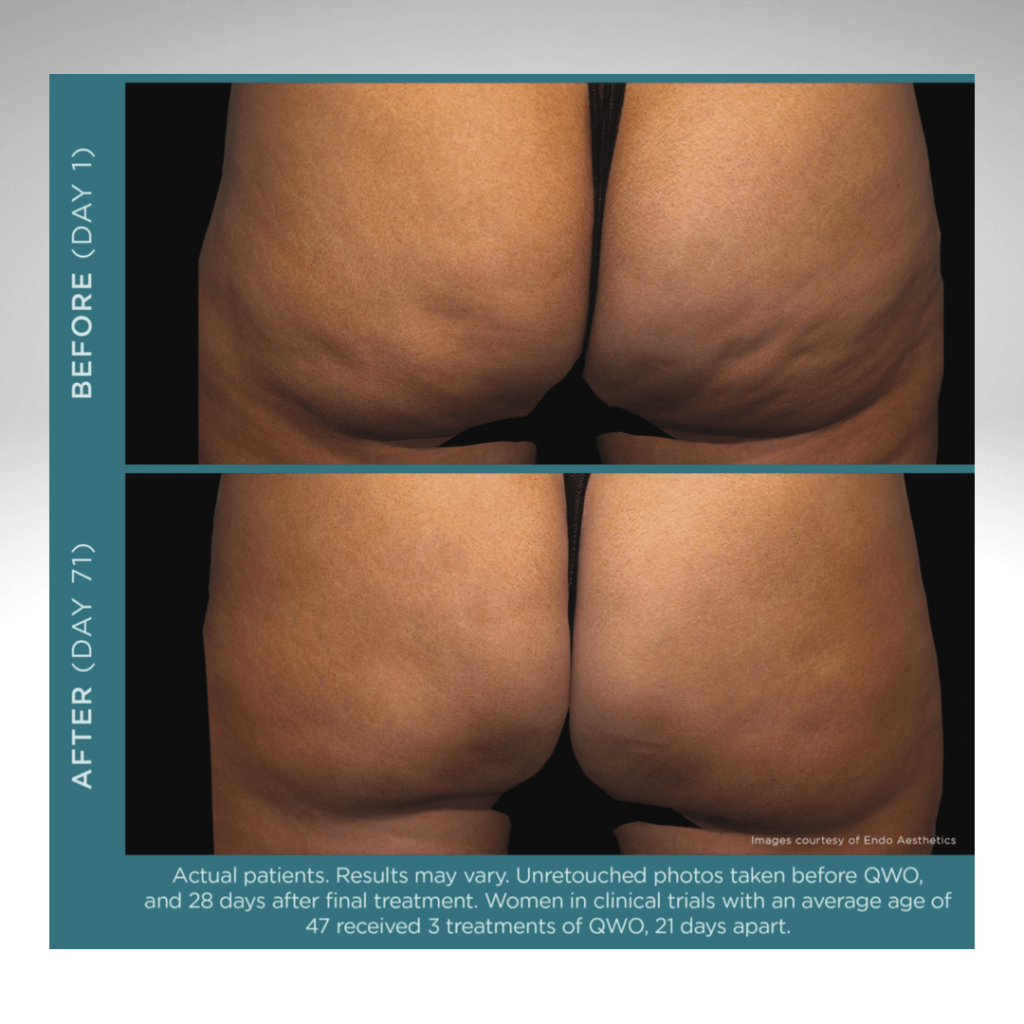 Qwo treatments can target and smooth gluteal cellulite. The active ingredient in the injectable, collagenase clostridium histolyticum, or simply collagenase, is a naturally present enzyme in the body. As a key part of the skin's extracellular matrix, collagenase interacts with collagen in damaged skin. Though the exact mechanism is not known, it is believed the collagenase in Qwo does three things at a molecular level:
Releases tension in the fibrous bands surrounding fat cells
Redistributes fat cells in the treatment area
Stimulates the growth of new collagen
Results from Qwo are both sustainable and long-lasting. Many women find that they not only have a smoother lower body silhouette, but that they also have the renewed body confidence to wear figure-hugging clothing such as leggings and swimwear again! Additionally, injection therapy is a safe, minimally invasive treatment method that's less time-consuming than some alternatives, making a Qwo treatment easy to fit into your daily schedule.
Fight back against unsightly cellulite with convenient, effective Qwo treatments at Plastic Surgeons of Lexington. Schedule an individual consultation at (859) 276-3883 and let one of our experienced team members guide you through the process. 
Candidates for Qwo Cellulite Treatment
Women dissatisfied with the appearance of moderate to severe cellulite on their buttocks may benefit the most from Qwo injectable therapy. Cellulite severity can be assessed based on a list of key attributes, which may include the: (6)
Number of skin depressions
Depth of skin depressions
Clinical appearance of evident raised lesions
Presence of tissue flaccidity
Grade of cellulite
This information is noted and used to grade cellulite severity as either mild, moderate, or severe.
Patients may not be good candidates for Qwo if they:
Are allergic to collagenase
Are those sensitive to any of the other ingredients in Qwo
Have an active infection at the treatment area
Personal Consultation
At your personal consultation, you will be invited to share your experience of cellulite with one of our medical team members. We will conduct a physical examination and note the extent of your cellulite in the area for treatment. If you are a good fit for Qwo, we will schedule your first therapeutic appointment!
While you're waiting, don't forget to check out our plastic surgery and skin rejuvenation blog and be sure to follow Plastic Surgeons of Lexington on Facebook, Instagram, and YouTube!
Qwo Procedure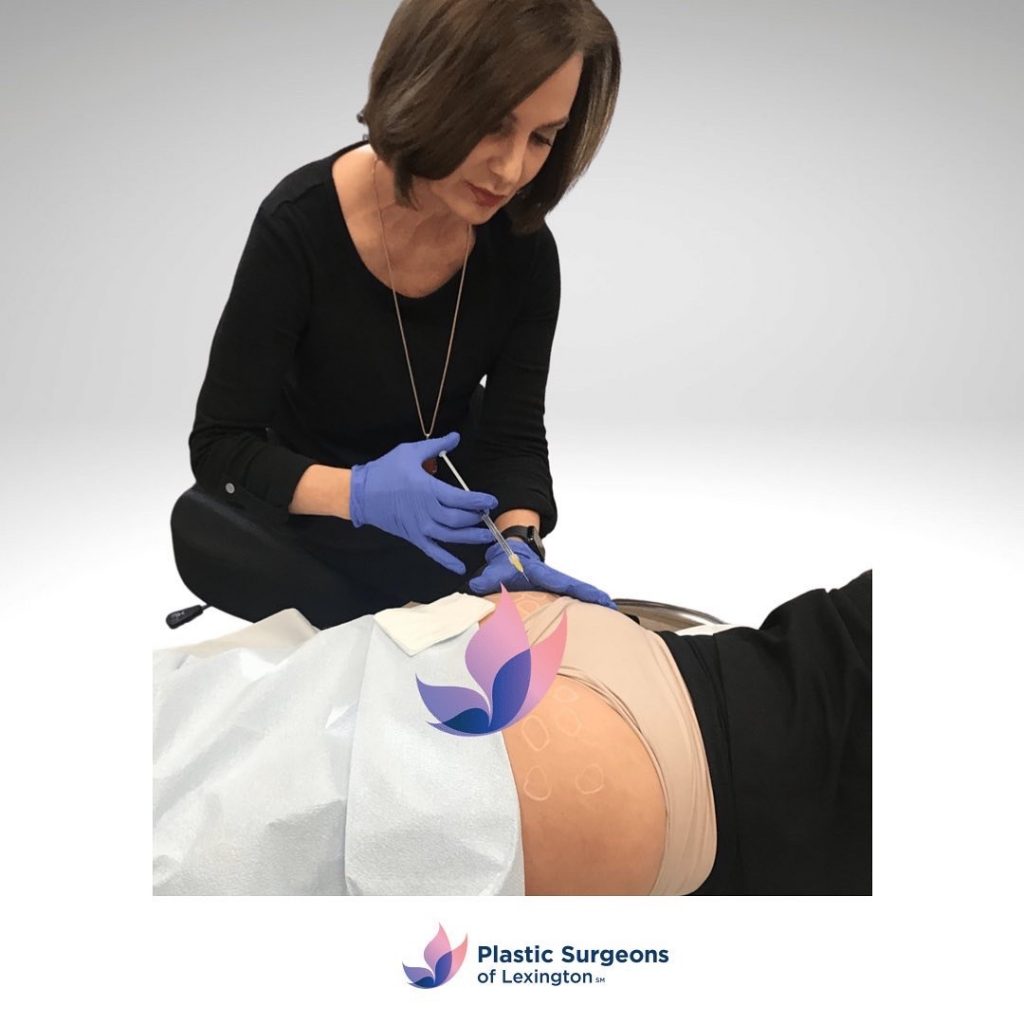 A Qwo procedure is fast and convenient! For the best results, patients receive their initial treatment, then return in the coming weeks to receive more. Injections sites in the first treatment usually target larger, more noticeable tissue disturbances, while subsequent sessions can continue to address smaller incidences of dimpling. Aesthetic Nurse Holly Hodge will inject the collagenase solution into several predetermined areas on your buttocks at the angle and depth that are most effective. The length of the procedure is largely dependent on the areas targeted, however, most sessions are over in a matter of minutes!
Cost of Cellulite Treatment in Lexington, KY
The cost of your Qwo treatment depends on a number of factors, including the severity of your cellulite, the number of areas addressed, and the number of treatment sessions requested. Because of this, each treatment plan cost varies. For comprehensive patient guidance and details on financing, please visit our website or contact us directly.
Visiting us from out of town? Let us know so we can be of assistance! If you'll be traveling from farther afield, please let us extend our Southern hospitality to you and provide you with peace of mind regarding your stay in Lexington. Check our website for a detailed hotel recommendation guide.
FAQ
Does Qwo cellulite therapy hurt?
Most patients experience some temporary discomfort during and after their Qwo treatment. Many describe it as mild, especially compared to some of the other cosmetic treatments they have had. Where there is pain, patients can use doctor-recommended pain relief to counter symptoms. These usually resolve completely around a week after the treatment session.
Is Qwo only for buttock cellulite?
So far, Qwo is an FDA-approved cellulite treatment for the buttocks only. Please speak to your doctor about the other treatment options available to you for other areas of cellulite, such as the inner thighs and hips.
How do I know if my cellulite can be treated with Qwo injectables?
Qwo injectable therapy for cellulite is best suited to patients with moderate to severe cellulite on the buttocks. The best way to assess your cellulite is to arrange a personal consultation with a specialist to see if you're a good fit for this type of treatment.
References