Buccal Fat Removal
Conveniently located to serve the areas of Lexington, KY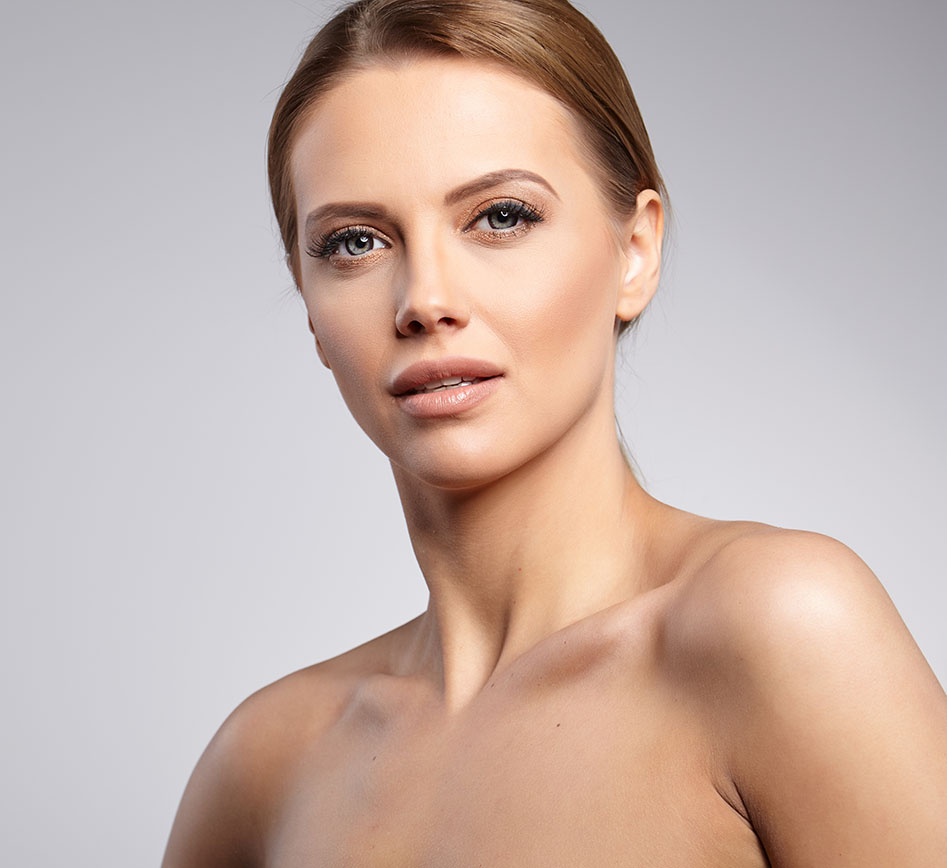 Buccal fat removal is a surgical procedure that removes a small portion of fat from the cheeks for a sleeker, model-like facial contour. The procedure makes for a slimmer looking face, accentuating the cheek bones for that classic vogue aesthetic. Buccal fat removal has become increasingly popular in Hollywood, with new celebrities every day unveiling the striking results of the procedure. In pursuit of the coveted "inverted triangle of beauty", buccal fat removal is a step many may find advantageous.
Here at Plastic Surgeons of Lexington, we provide individualized buccal fat removal procedures for those interested in refining the appearance of their cheeks. For more information, call us at (859) 276-3883 or fill out this form for more details about setting up a consultation.
About Buccal Fat Removal
Buccal fat is a determining factor for facial beauty, directly influencing the contour of the cheek and face. It is made up of adipose tissue, forming a pad between the jaw muscles which affects the shape of the face underneath the cheekbone. Excess buccal fat can make the face appear rounder than one may prefer. It is a prominent factor in facial aesthetics, and so its removal can be seen as a crucial and effective aspect of facial cosmetic surgery. (1)
Buccal fat removal is a procedure in which excess tissue is removed from the fat pads of the cheeks. The procedure is done in order to make the face appear slimmer and more toned. It gets rid of chubby cheeks that can take away from the lean look of toned facial beauty.
Removing excess buccal fat creates a contrast of shadow between the cheekbone and the lower jaw. This contrast can be described in terms of zygomatic prominence. Greater zygomatic prominence makes the face appear less round, creating a more v-shaped aesthetic facial appearance, otherwise known as an inverted triangle of beauty. (2)
How Much Buccal Fat is Removed?
The surgeon can determine how much buccal fat will be removed prior to the procedure, in order to fine-tune a patient's desired facial appearance. For the maximum effect, it is possible to remove all of the buccal fat from your cheek. However, buccal fat cannot not grow back, so the effects of the procedure are reliable and long-lasting.
Benefits of Buccal Fat Removal
Buccal fat removal can make your face appear slimmer, making for a more striking facial appearance. If you are unsatisfied with the roundness of your face, buccal fat removal can reshape your cheeks and allow your other facial features to shine. Having a more contoured face will accentuate your cheekbones and strengthen your jawline, achieving a more refined look.
Buccal fat removal is a procedure that yields long-lasting cosmetic effects, as, when buccal fat is removed, it does not grow back. Once you've had your surgery, you can rest assured that your face will remain beautifully slim and shapely for many years to come.
Who is a Candidate for Buccal Fat Removal?
The ideal candidate for buccal fat removal is fed up with the roundness of their face and the excess fat in their cheeks. If you want more pronounced cheekbones and a more toned overall facial aesthetic, buccal fat removal might be the perfect choice for you.
The effects of buccal fat removal will be most consistent for those candidates who have achieved a steady weight. If you plan on losing weight, a lack of buccal fat in the lower cheeks may go from appearing preferably slim to gaunt, due to the loss of fat in other parts of the face.
Personal Consultation
At your personal consultation, we can provide you with all the details you need to know about buccal fat removal. We will review your personal health history and condition, as well as discuss the best way to accomplish the aesthetic goals you have in mind.
At Plastic Surgeons of Lexington, we go out of our way to provide the best possible cosmetic treatments. We provide a personalized experience, making sure you receive a procedure that is right for you.
To schedule your personal consultation, call us at (859) 276-3883 or contact us directly on our website.
Preparation
In preparation for your surgery, we will review your medical history and the medicine you currently take. We may ask you to suspend use of certain medications for your safety. If you smoke, you must stop for some time before and after your surgery, as smoking can slow healing and potentially lessen the positive aesthetic effects of the procedure.
Buccal fat removal can be performed using either general or local anesthesia. We will determine which option is best for you, depending on your preferences and current medical condition.
Buccal Fat Removal Procedure
To begin your buccal fat removal, we will administer the form of anesthesia that we have predetermined for you. The surgery involves a small strategic incision made inside your cheek. Your surgeon will then remove the buccal fat directly through the incision based on your desired goals. The surgeon then closes the incision and repeats the process on the opposite cheek.
Recovery
It can take up to three weeks to recover from buccal fat removal. However, it may take longer for your face to settle into shape. The final aesthetic result of the procedure should reveal itself after around two months.
You should expect some initial swelling and bruising, which will subside about a week after the procedure. We advise that you take a week off from work in order to rest. Because of the location of the procedure, you should try to eat softer foods in the first couple of days after removal. You may experience some soreness in and around the incisions, which can be mitigated with medication.
Results
When your face has settled into its new shape, the results of your buccal fat removal will be wonderfully apparent. Once your upper cheeks have been given room to shine, and your jawline has gained a newfound prominence, your face will be an impressively toned version of what it was.
Buccal fat does not grow back once it's been removed, so you can rest assured that the dazzling effects of the cosmetic surgery will persist for some time. If you remain at a constant weight post-surgery, your cheeks should remain as strikingly contoured as they were on the first day of full-recovery.
Corresponding & Complementary Procedures
At Plastic Surgeons of Lexington, we provide other facial cosmetic procedures that may work in conjunction with buccal fat removal.
Chin Liposuction
Chin liposuction is a procedure in which we remove excess fat from the chin and neck area. This procedure can help to further the slimming and contouring effects of a buccal fat removal. If you are interested in complementary procedures, we can discuss options at your personal consultation. 
Dermal Fillers
Dermal fillers are an excellent option for those looking to restore lost volume, smooth out wrinkles, and enhance facial contours. These fillers are composed of a gel-like substance that is injected beneath the skin to add volume and provide a more youthful appearance. They can be used to address various areas of the face, including the cheeks, lips, nasolabial folds, and marionette lines.
Botox
Botox is another non-surgical treatment option that can effectively reduce the appearance of wrinkles and fine lines. These products work by temporarily relaxing the muscles responsible for causing dynamic wrinkles, giving you a smoother and more youthful complexion. Common areas treated with injectables include forehead lines, crow's feet, and frown lines between the eyebrows.
To find out more about our services visit our blog.
How Much Does Buccal Fat Removal Cost?
Buccal fat removal is an individualized procedure with costs that depend on the nature of the treatment plan. To find out how much buccal fat removal will cost in Lexington, and learn about other financial considerations, call us at (859) 276-3883 or fill out this form. 
FAQ
What is the recovery time for buccal fat removal?
It takes about three weeks to fully recover from a buccal fat removal procedure. However, it can take up to two months for the aesthetic effects to set in their final position.
Am I a candidate for buccal fat removal?
The ideal buccal fat removal candidate is unhappy with the roundness of their face, or the oversized nature of their lower cheeks. If you want a slimmer face and are also in good health, buccal fat is likely right for you.  
How is a buccal fat removal performed?
Buccal fat removal is done by making small incisions inside the cheeks and removing excess fat from the buccal fat pads directly. 
Are the effects of buccal fat removal permanent?
Yes, because buccal fat does not grow back once it has been removed, the effects of the procedure itself are permanent. However, in the case of weight change, the aesthetic appearance of your absent buccal fat may diminish or become exacerbated. The effects of aging will inevitably have an effect on the condition of your face as well, though a healthy diet and lifestyle can slow this process down.
References
Weniger FG, Weidman AA. The Buccal Fat Pad. Plastic and Reconstructive Surgery – Global Open. 2019;7(7):e2328. doi:https://doi.org/10.1097/gox.0000000000002328 
Moura LB, Spin JR, Spin-Neto R, Pereira-Filho VA. Buccal fat pad removal to improve facial aesthetics: an established technique? Medicina Oral, Patología Oral y Cirugía Bucal. 2018;23(4):e478-e484. doi:https://doi.org/10.4317/medoral.22449