Breast Augmentation
Conveniently located to serve the areas of Lexington, KY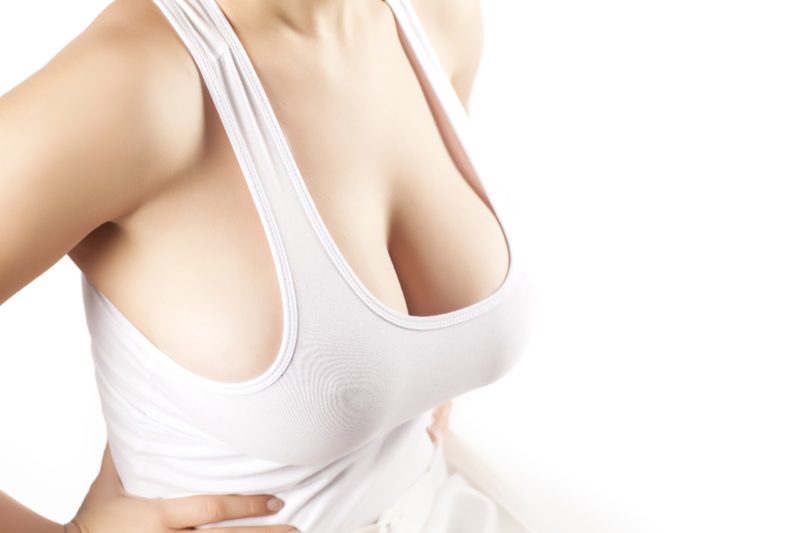 A timeless symbol of femininity, a woman's breasts can be a crucial aspect of her body image and self-esteem. If you have always desired larger breasts, or if you want to restore your breasts to their previous size and shape, breast augmentation may be the solution you've been seeking.
The Board Certified and Board Eligibile plastic surgeons at Plastic Surgeons of Lexington provide individualized breast augmentation consultations for women from Lexington, Frankfort, Georgetown and throughout Kentucky. Please contact us today online or at call us to schedule your personal consultation today.
Before & After Photos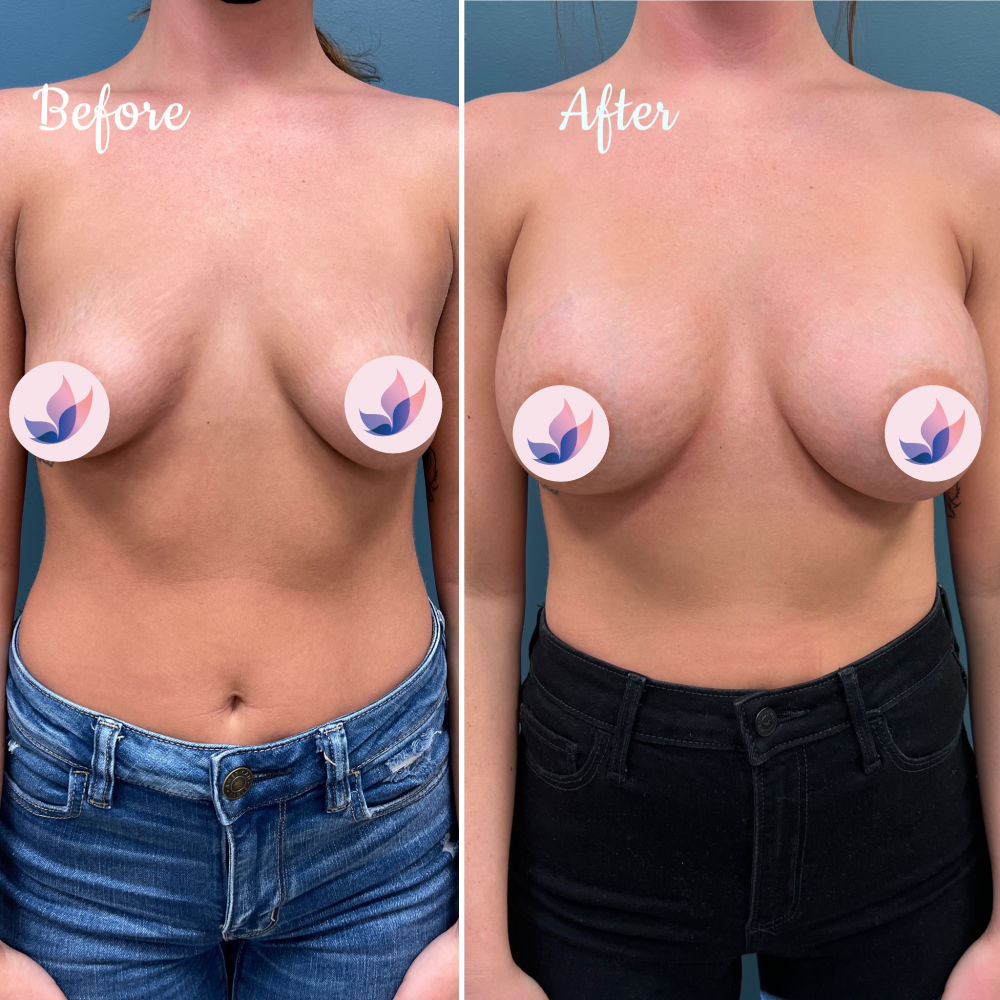 What Is Breast Augmentation?
Breast augmentation is a plastic surgery procedure that enhances your breasts through the placement of implants. Your breast augmentation can be customized in a number of ways to achieve the appearance and results you desire, including:
Breast size
Breast shape
Incision placement
Implant placement
No two patients are the same, and successful breast augmentation requires the skill and attention of a Board Certified and Board Eligibile plastic surgeon who will listen to your concerns, assess your physical contours and devise a tailored treatment plan that addresses your unique goals. At Plastic Surgeons of Lexington, we pride ourselves on understanding the specific needs and attributes of each patient and delivering safe, consistently-exceptional results.
Benefits of Breast Augmentation
Through the use of saline or silicone breast implants, our highly-trained and experienced breast surgeons can help to improve the appearance of your breasts and enhance your overall figure. The advantages of breast augmentation can be as varied as the women who undergo the procedure, providing a number of benefits, such as:
Increased or restored breast volume
Improved overall shape of the breasts
More symmetrical breasts
A more beautifully contoured profile
Balanced body proportions
No matter your reason for considering breast augmentation, whether you want to achieve larger breasts, correct asymmetry or restore your breasts to their pre-pregnancy shape, our Board Certified and Board Eligibile plastic surgeons can provide the technical skill, meticulous artistry and compassionate understanding you need to achieve the beautiful, long-lasting results you deserve.
The Right Breast Augmentation for You
At Plastic Surgeons of Lexington, we believe that the best results come from patient-focused, individualized care. Your breast augmentation will be fully customized for your needs and physicality, delivering elegant, natural-looking results. You have a wide variety of options available to you, and we will work closely with you to ensure your breast enhancement achieves your specific goals. These include:
Size of the breast implant
Type of breast implant
Location of the breast augmentation incision
The placement of the breast implant
During your personal breast augmentation consultation, we will discuss your objectives, assess the condition of your breast tissue, and make recommendations about how to best achieve the results you seek. Once these decisions have been made, you can schedule your breast enlargement surgery.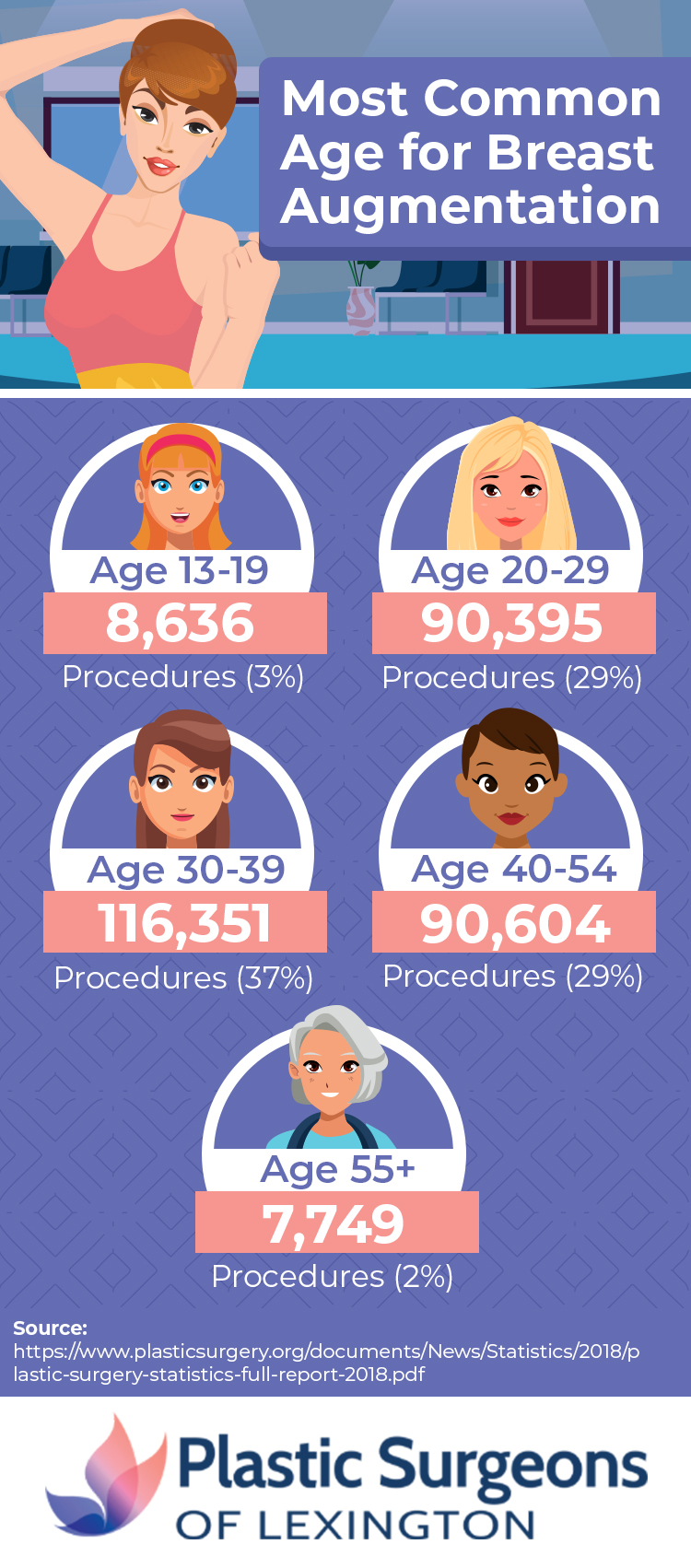 Finding the Right Size for Your Breast Implant
Finding the ideal size for your breast implant requires experience, skill and artistry. Our plastic surgeons must consider a number of factors when helping you determine the best size for you. Bigger isn't always better. We will work closely with you to make sure we find the perfect breast size that looks natural, compliments your frame and achieves your goals.
When helping you determine the ideal breast size for your new figure, our breast surgeons will asses a variety of factors, including:
Desired final breast appearance
Skin elasticity
The amount of existing breast tissue
Your lifestyle
Your weight, height, breast, and chest dimensions
We will begin the process of breast implant sizing at your initial consultation. We will use helpful methods to offer you a clear idea of what your new breasts may look like.
Types of Breast Implants
It's important to remember that with breast augmentation, the quality of your results depends on more than just size; your breasts should look natural. Achieving a beautiful and natural-looking appearance involves several factors, such as the placement of the areola and type of implant you choose.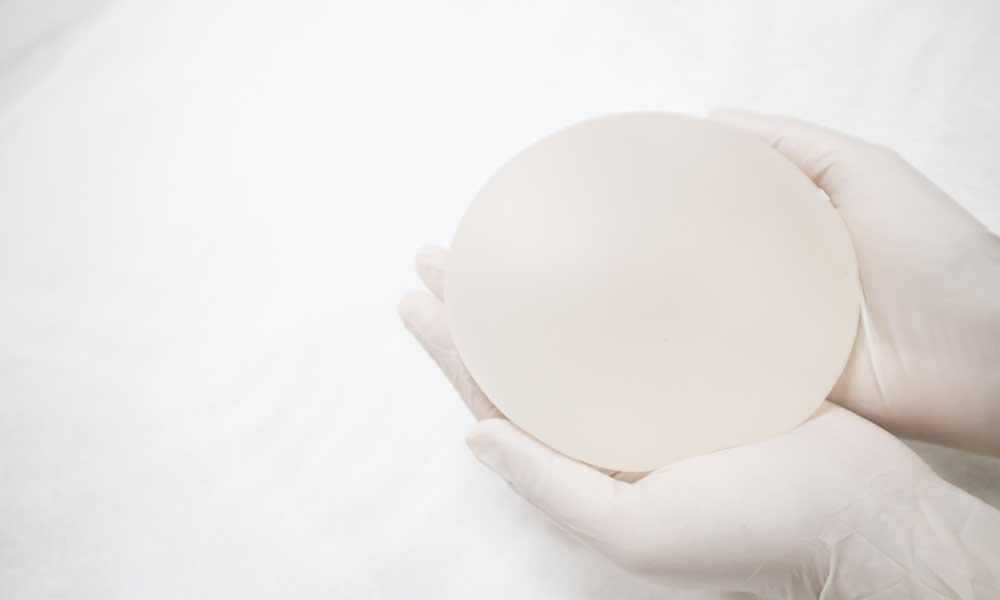 On their own, implants cannot correct sagging that many women experience with aging. A breast lift may be recommended in these situations to achieve an attractive, natural-looking contour.
It is not uncommon for many women to focus on the size of their implants when considering breast augmentation surgery. However, deciding whether you want saline, silicone or "gummy bear" breast implants is an essential decision that must be made in the early stages of the process.
Saline Breast Implants
FDA-approved for women aged 18 and older, saline breast implants are smooth, round silicone shells filled with a sterile, saline solution. Benefits of saline implants include:
Saline implants are typically less expensive than silicone implants
Saline implants can be filled after they are inserted into your breasts, allowing for a smaller incision and greater control over individual implant size
In the event of a saline implant rupture, the sterile saline solution is safely absorbed by your body
Silicone Breast Implants
Silicone implants are a tremendously popular implant option and provide a number of advantages to breast augmentation patients. Some of the greatest benefits of choosing silicone implants include:
Silicone implants can retain their size and shape, even after a rupture
Silicone implants can be placed above chest muscles without concern of eventual aesthetic flaws such as rippling
Silicone breast implants tend to look and feel more like natural breasts, due to their thicker, cohesive filing
Gummy Bear Implants
Gummy bear implants are FDA-approved for patients who are at least 22-years old or who are undergoing post-cancer breast reconstruction at any age. Due to their enhanced stability and "teardrop" shapes, gummy bear implants offer certain benefits over other silicone implant options. Much like their namesake, gummy bear candy, gummy bear implants can retain their shape, even when cut in half. This is thanks to the internal cross-linking within the silicone shells.
Incision Placement
There are three incision options to choose from when considering breast augmentation, each with its own pros and cons. Our experienced breast surgeons will carefully explain all of your options and ultimately recommend which choice will deliver the best results for your unique body type and aesthetic goals.
Your breast augmentation incision options may include:
Inframammary: This type of incision is made in the fold where the lower part of the breast meets the wall of the chest (inframammary fold). These incisions are usually between three to five centimeters long. In addition to being easily hidden by a bra or bikini, inframammary incisions provide surgeons with more control over precision and bleeding.
Peri-areolar: Using this method, an incision is made around the areola, concealing any scarring in the dark pigment. Periareolar incisions are sometimes preferred when performing breast augmentation in combination with a breast lift.
Transaxillary: The breast implant is placed through a small incision in the armpit.
There is no single incision placement that is best for every patient. While there are a variety of incision options, each approach offers distinct advantages and disadvantages.
Our surgeon will consider a variety of factors when determining the ideal strategy for you, including your:
Expectations
Personal preference for incision location
Whether you also need a breast lift
Breast implant type, size, and placement
Desired fullness and cleavage
Quality and amount of natural breast tissue
Your body type
Placement of Your Breast Implants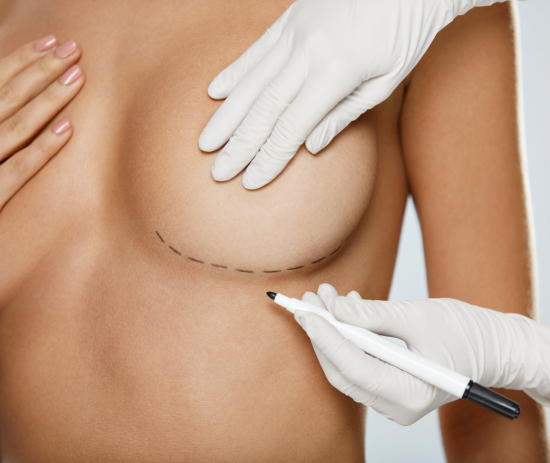 The location where your breast implants are placed directly affects the look and feel of your final results. Determining the ideal implant placement location is based on your unique goals and physical features. During your initial consultation, we will discuss all of your options and recommend the approach that best suits your expectations and anatomical structure.
Sub-Muscular Breast Implant Placement
With sub-muscular breast implant placement, your implant is placed below both the breast tissue and your chest's pectoral muscle. Because of the additional protection of the implant by your chest muscle, sub-muscular breast implants generally feel and look more natural.
Not only does this technique reduce the likelihood of visible rippling, it reduces the risk of capsular contracture, a complication in which hard scar tissue forms a capsule around the implant.
The recovery period for breast augmentation with sub-muscular placement is slightly longer. However, most women find this issue is offset by the many benefits of sub-muscular placement such as reduced postsurgical complications and overall appearance. Of course, it's important to remember that no single implant placement option is ideally suited for everyone.
Sub-Glandular Breast Implant Placement
Sub-glandular placement involves the placement of breast implants just below the tissue of your breast but above the chest muscle. This may be appropriate for patients who enjoy vigorous physical activities such as weight lifting, because it reduces the risk of changes to breast shape during the contraction of chest muscles.
Sub-glandular placement is achievable with every type of breast implant, but you need to have enough natural breast tissue to cover the implant for this to be a viable option. Our surgeon will thoroughly explain all of the advantages and associated risks of each placement technique during your consultation and recommended the option that is best suited for your goals, lifestyle and physical characteristics.
Am I a Good Candidate for Breast Augmentation Surgery?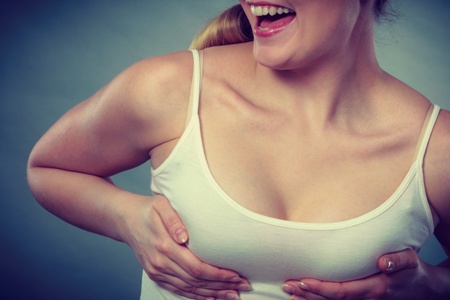 Successful breast augmentation results rely on the elegant union of your existing breast tissue and the implant options you choose. There is no one-size-fits-all solution to success. Before the placement of your implants, a thorough examination is performed and your measurements are taken. This process, in addition to the recommendations and sizing methods offered by our skilled physicians, will help guide your implant choice and ensure the size and shape compliments your unique frame.
Other factors are also considered when determining if breast augmentation is right for you. During your consultation, our breast surgeon will review your health and medical history to ensure this procedure is appropriate for you. Generally speaking, good breast augmentation candidates are:
At least 18 years old for saline implants and 22 years old for silicone implants
In good physical health
Near an ideal weight
Have fully-developed breasts
Have adequate natural breast tissue
Do not have autoimmune disorders
Have not been diagnosed with cancer or a pre-cancer condition
Why Choose Plastic Surgeons of Lexington for Your Breast Augmentation?
For more than 65 years, Plastic Surgeons of Lexington has been the premier choice for cosmetic and reconstructive surgery in the Central Kentucky area. Our Board Certified and Board Eligibile plastic surgeons can provide the expertise, skill and artistic eye you need to achieve world-class, natural-looking results. Our compassionate bedside manner and commitment to your sense of comfort will help you feel at ease throughout your experience.
We will explain your breast enhancement options and help you find a solution that best meets your needs.
Schedule Your Breast Augmentation Consultation Today
If you are considering breast augmentation surgery in Lexington, Frankfort, Georgetown or other nearby Kentucky communities, please contact Plastic Surgeons of Lexington today by calling us or completing the form on this page to schedule your consultation.