ACP For Hair Loss
Conveniently located to serve the areas of Lexington, KY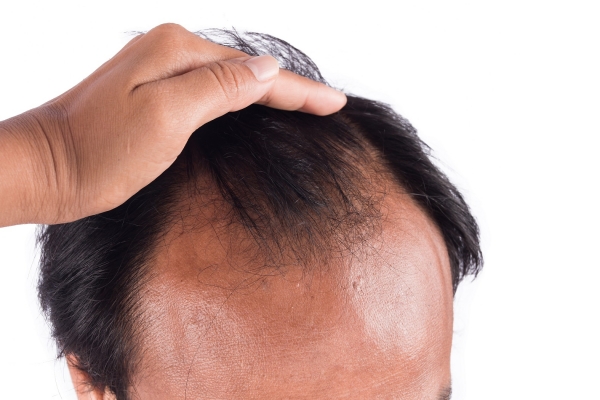 Autologous Conditioned Plasma (ACP) is an effective solution for treating natural hair loss. ACP contains rich, organic properties that restore follicular health on a cellular level and promote fuller, thicker hair growth. Hair loss is common. But, people go to great lengths to treat their hair loss. Traditionally, people have turned to unnatural cover-ups, improperly placed wigs, and surgical procedures that leave noticeable scarring. All of these options leave them with undesirable results. However, with ACP, we strategically reintroduce the patient's own restorative properties to their atrophying hair follicles. This allows for genuine results, no scarring, and no downtime. If you are interested in seeing how ACP can give you naturally fuller, thicker hair, schedule a consultation at our Lexington offices. If you would like to speak with us directly, please call our front offices at (859) 276-3883.
Before and After Photos
Natural Hair Loss
The first step to hair loss treatment is knowing whether or not you are in fact losing your hair. Hair loss can be an inherited trait or the side effect of [1]
Stress
Pregnancy
Certain medications
Poor nutrition
Hair loss caused by these factors typically subsides after the underlying cause is addressed. So, it is important to first see what may be causing your hair loss. You can test your follicular health at home! One way is by looking at a picture of you months ago. Does your hair look fuller than it does today, longer or healthier? Another test is to look at your pillow when you wake up. Are there clumps or patches of hair on the pillow? In the shower, does your hair fall out easily? Finally, there is a test called "the pull test". You can perform this test right now. Gently run your fingers through your hair from the roots to the ends. Don't pull too hard. There should be a couple of hairs interwoven between your fingers. Count them. If you have 10 or more hairs from one pass, you might be experiencing natural hair loss.[2]
The Restorative Science Behind ACP
Our body naturally produces restorative proteins and chemicals that work together to generate healthy cells and ensure their proper function. These properties are produced at a moment's notice whenever an injury occurs in our body. Platelets, white blood cells, growth factors, and plasma filter through our blood and work to stop the bleeding and restore equilibrium. These restorative properties generate new tissue and rejuvenate affected cells and tissue. ACP strategically uses this biological process on weakened hair follicles. Over the past decades, ACP has also been utilized to regenerate damaged tissue during surgery and combat signs of aging in patients' complexions.[3] 
How We Extract ACP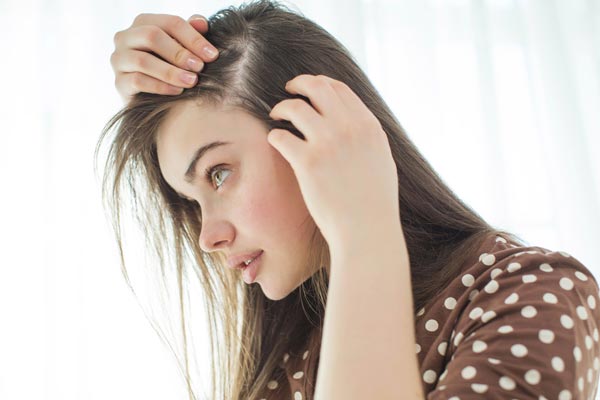 Our blood is comprised of mostly red blood cells and plasma. Red blood cells oxygenate our blood and filter de-oxygenated blood through our lungs. On the other hand, plasma carries proteins, hormones, glucose, ions, and gases from one part of our body to another.[4] Composing only 2% of our blood's contents, white blood cells and platelets offer the most restorative benefits. Platelets and white blood cells disperse growth factors around the treated areas to generate new, healthy tissue. We extract these and plasma by first taking a simple blood draw. Next, we run the blood sample through a centrifuge. At a high velocity, the blood cells separate, sending the denser red blood cells to the bottom of the vial. At the top of the vial is known as the "buffy coat" layer. This layer is a golden liquid that contains plasma, white blood cells, and platelets. Next, we formulate this golden liquid into a serum and ready it for injection to the patient's balding or thinning areas.
Benefits
When compared to other hair loss treatments, ACP offers a host of benefits that make it the preferred choice of patients seeking a simple solution to hair loss. 
No Scarring
Follicular unit transplantation (FUT) is a popular surgical procedure for treating hair loss. This procedure begins by making a horizontal incision across the back of the head. From here, the surgeon removes a strip of the scalp to extract hair follicles directly. The theory is that once the patient grows out their hair the incision will be hidden. This, however, limits hairstyles for many patients. Instead, the linear scar pokes through short hairstyles, forcing patients to wear longer hairstyles. ACP, rather, is a non-surgical procedure that doesn't require any incisions, just a series of simple injections.
Natural Results
Many turn to wigs, toupees, and other solutions that utilize artificial hair. Although these methods provide coverage for balding or thinning areas, they do so at the risk of appearing unnatural. With ACP, we use the patient's own restorative properties to incite natural hair regrowth. This allows for natural results that aren't limited by unwanted side effects from harsh, foreign chemicals. 
Simple Procedure
Unlike other hair loss treatments, ACP is a simple procedure that requires minimal preparation and no downtime. After the blood draw, we introduce the ACP to the scalp via a series of injections into the thinning areas. Once we are done, you are free to resume your daily activities without having to focus strictly on rest and recovery. 
Candidates
If you are interested in ACP for hair loss, please schedule a personal consultation at our offices in Lexington. Here, we will be able to determine your eligibility for ACP. Typically, any patients who are losing their hair are prime candidates for ACP. We will note your concern and specific hair loss needs during your consultation. We will also be able to determine if your hair loss is caused by inherited traits or if another factor is causing it. 
Personal Consultation
If this is your first time with us, we will begin with a brief new patient intake interview and a physical examination. We will learn about your hair loss and note the areas with thinning hair. Most patients who come to see us also have other cosmetic concerns like wrinkles, fine lines, and folds. We will note these and might recommend using ACP during a microneedling session. After configuring a personalized treatment plan, we will give you a list of preparatory steps to follow before your ACP session.
Preparation
Before your ACP session, we ask that you avoid blood-thinning medications. We also ask that you remain well-hydrated and avoid smoking a couple of days before and after your procedure. Nicotine constricts blood vessels and hampers the body's natural healing abilities. 
Recovery
After your ACP procedure, your treated areas might be a little tender. We can use a numbing agent during your procedure to ease any discomfort, so your scalp might still be numb for the next couple of hours. Be sure to avoid strenuous activities for the next couple of days. Because this is a non-surgical procedure, you won't need to worry about extensive recovery plans. You can return to non-strenuous activities the very next day. At your follow-up appointment, we will note your progress. 
Results
ACP provides results that gradually improve with time. Over the course of the next few weeks and months, the ACP cells will restore the hair follicles back to healthy function. Afterward, you will notice your hair regrow fuller and thicker. Taking proper care of your health by eating nutritious foods and steering clear of unhealthy habits will ensure that you have every advantage for hair regrowth. If you have any questions about the journey to a fuller head of hair, schedule a consultation today!
NeoGraft for Hair Loss
Another solution for hair loss is NeoGraft. NeoGraft is a device that safely removes hair follicles from the back and sides of the head. These follicles are then relocated to the balding or thinning areas at the appropriate depth in the scalp. Over time, these relocated hair follicles adjust to their new homes and regrow naturally fuller, healthier hair.
How Much Does ACP For Hair Loss Cost in Lexington?
The cost of your ACP session will depend on the size of the area we treat. We will discuss and determine the cost of your care during your consultation. If you wish to finance your care, check out our financing page. To stay updated on the latest happenings in the plastic surgery industry, be sure to check out our blog! To reach our offices directly, please call (859) 276-3883.
References