NeoGraft Hair Transplant
Conveniently located to serve the areas of Lexington, KY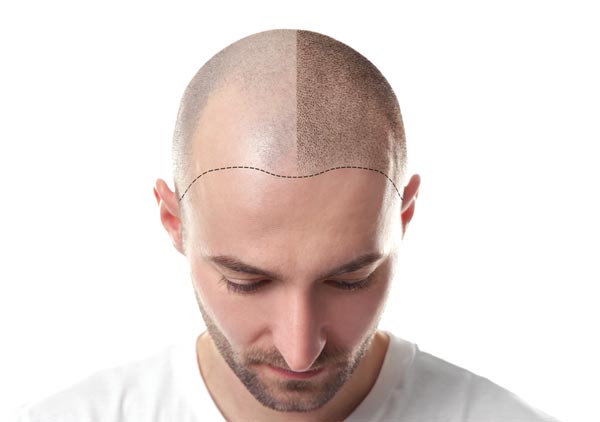 NeoGraft hair transplant is a minimally invasive hair loss treatment that harvests ripe hair follicles from different donor areas on your head to then be placed around your hairline or your crown to achieve a fuller, thicker head of hair. Manual follicular unit extraction (FUE) method is where a medical professional extracts follicles from the back of head and harvests those follicles individually. NeoGraft is an automated device that assists FUE, ensuring that each follicle can be accurately placed at a uniform depth. Then, the new hair follicles in the treated area can grow out with the donor areas to promote a full, healthy head of hair with NO visible scarring.
About Hair Loss

Hair loss can be detrimental to a person's self-esteem or confidence in the workplace and intrapersonal relationships. For men and women alike, hair loss can damage a person's self-image and become a major insecurity in their life. Although seen as undesirable in many spheres of society, hair loss will be experienced by the vast majority of people. By 50, 85% of men will have experienced thinning hair, and 25% of those men would have started losing their hair before 21.[1] But hair loss isn't exclusive to one sex. Thinning hair can affect women too. As women go through their lives, 55% will experience some degree of hair loss.[2] There are many reasons why hair loss happens. Hair loss can be attributed to different types of alopecia, stress induced hair loss, side effects from medications, hormone imbalance, poor diet, or lack of certain nutrients like iron, zinc, and biotin.[3]
Here at Plastic Surgeons of Lexington, we know the difficulty that hair loss can bring. That's why we offer NeoGraft! Being that it is the best in the market at bringing people a real hair loss solution with no scarring and minimal downtime, the NeoGraft treatment is the premier answer to hair loss for everyone. If you wish to schedule a consultation or want to speak with one of our incredible staff members please call us at (859) 276-3883.
Before and After Photos
NeoGraft is the leader in remedying hair loss and there are numerous benefits when electing to go with this treatment.
Benefits
No Scarring
A rival to Neograft's FUE treatment methods is follicular unit transplantation (FUT). This invasive treatment takes the donor hair follicles from the back of head while making a linear incision that results in a prominent scar. While this treatment has been seen to help with male and female pattern baldness, many patients are dissatisfied with the striking scar on the back of their head. But with NeoGraft, no incisions are made so therefore no scars will remain to tell of the surgery years down the road – only a fabulous, full head of hair.
Natural Looking Results
Because NeoGraft uses your own uniquely individual hair follicles, the results once your hair grows out will have a natural look. Finally, you can be given results that are perfect for you because they are from you!
Candidates
The perfect candidate for Neograft is someone who may be self-conscious about their hair loss and in search of a treatment that will truly give them results they can be satisfied with. They may have tried various supplements or at home treatments that haven't garnered them the results they so desperately want.
Qualified candidates should have a healthy amount of hair on the back and sides of their head as these serve as the donor spots for the NeoGraft machine to extract from. While they may be wanting real results, it is important that candidates know it may take months for the new hair to regrow following the procedure. Also, the candidate should be in good health so that the body is able to recover during the healing process.
Personal Consultation
During your consultation at our Lexington office, we will go over your medical and surgical history, noting if there are any hair loss treatments you've tried in the past. Then, we will examine the sides of your head, looking closely at the follicular health of the hair. These areas will be places where we harvest the donor hair, so it is important that these follicles be healthy. Next, we will discuss different treatment options that may be used in addition to NeoGraft to help provide the best results possible. If NeoGraft is the chosen treatment option, a time and date will be scheduled for you to return to our office for your Neograft treatment.
Preparation
Avoid blood thinning medications as this can cause excessive bleeding during your NeoGraft treatment
Avoid nicotine and alcohol as these substances can hamper the body's natural ability to heal and recover
Shave head in donor areas as this will promote maximum yield when harvesting hair follicles and will insure an even regrowth of hair in the following months
Procedure
First, the target areas will be treated with local anesthesia to help reduce any pain or discomfort that may be felt during the procedure. Next, during your NeoGraft treatment, one of our trained surgeons will expertly harvest the hair follicles in patches of 1-4 hairs from your donor areas using the NeoGraft device. Then, your attending medical professional will implant the healthy follicles around the bald areas at even depths using the NeoGraft device. Depending on the size of the treated area, this procedure can take anywhere from 4-8 hours to complete.
Recovery
The recovery process after a Neograft treatment is very minimal. After the treatment, you will see redness and tiny holes in the treated areas, but these should disappear after a week. One or two days after the treatment you will start to see the swelling has greatly diminished. You should be able to return to normal activities the next day, but steer clear of any strenuous activity for two weeks after the treatment. It is important to not aggravate the targeted area while it heals.
Results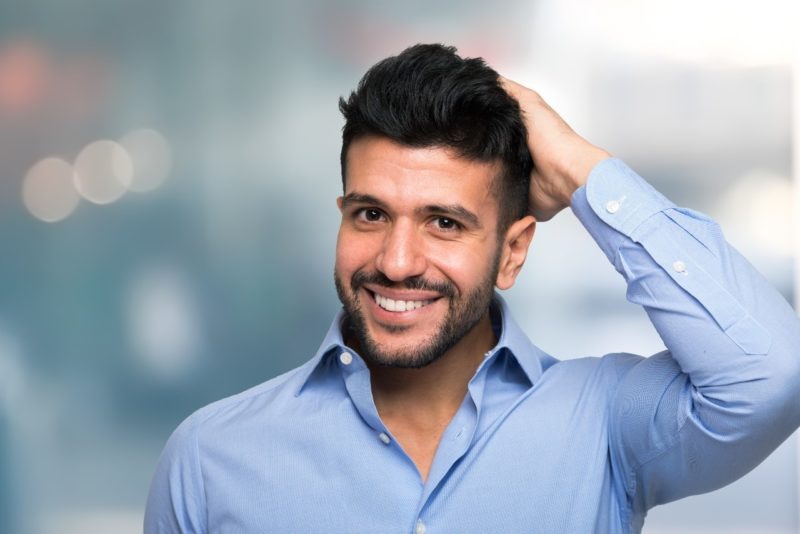 About 2 to 4 weeks after your NeoGraft treatment, you will see that all or most of the implanted hair has fallen out. This is completely normal. In the following 8 to 12 months your hair will grow back fuller and stronger than it has probably been in years. It's time to enjoy your new natural, flowing hair.
Corresponding & Complementary Procedures
At Plastic Surgeons of Lexington, we have many other hair loss solutions available other than NeoGraft.
HydraFacial Keravive
This 3-step hair rejuvenating treatment is perfect for anyone who has poor scalp health. It begins with a reinvigorating cleanse and exfoliation of the scalp. Then, a Keravive Peptide Complex Solution is used to nourish your hair follicles to regrow from a healthier, fuller scalp. Then the HydraFacial Keravive Peptide Complex Spray will be taken home to be applied on the hair and scalp to promote a fresh, richer head of hair.
Cost of NeoGraft in Lexington, Kentucky
Many factors go into calculating the cost of NeoGraft. Some of those factors include the size of the treated area, different treatments used in the procedure, the patient's body type, and their medical history. If you wish to learn more about our payment options please visit our financing page. Also, be sure to keep up to date on what specials we are currently offering!
FAQ
How do I sleep after NeoGraft?
Sleep flat with your head elevated for the first few days. It is important to sleep fat with your head elevated to help minimize swelling in the area of treatment. 
Are NeoGraft results permanent?
The intent of NeoGraft is to create long-lasting to permanent results. However, depending on what may be causing your hair loss, new hair loss post-NeoGraft is possible. Routine maintenance with additional sessions can keep the results you have achieved from your first session and perhaps improve upon those initial results! 
References
American Hair Loss Association – Men's Hair Loss / Introduction. (2021). Americanhairloss.org. https://www.americanhairloss.org/men_hair_loss/introduction.html
Dinh, Q. Q., & Sinclair, R. (2007). Female pattern hair loss: current treatment concepts. Clinical interventions in aging, 2(2), 189–199.
Hair Loss – Harvard Health. (2018, December 5). Harvard Health; Harvard Health. https://www.health.harvard.edu/a_to_z/hair-loss-a-to-z