Rhinoplasty (Nose Surgery)
Conveniently located to serve the areas of Lexington, KY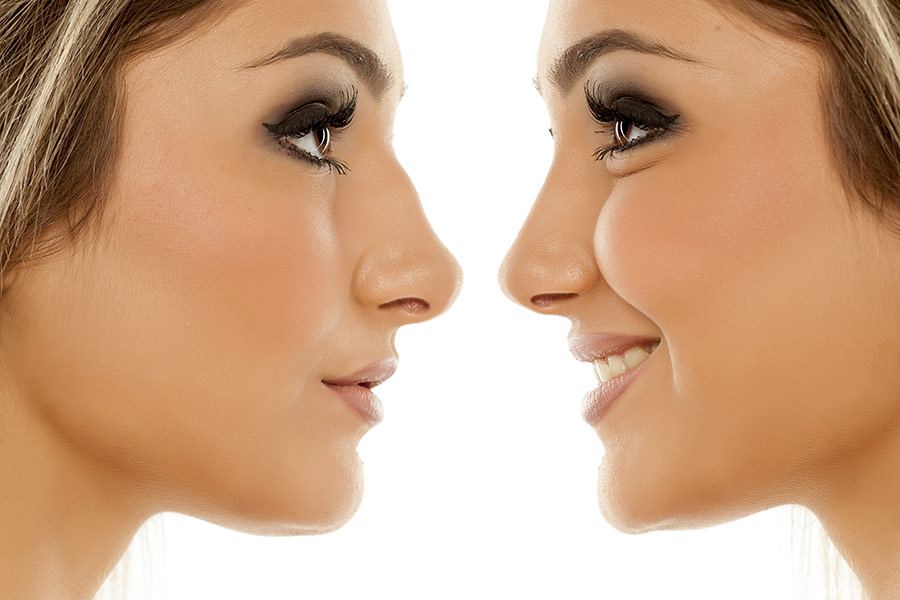 A rhinoplasty is a surgical procedure that aims to alter and reconstruct the nose. There are two types of "nose jobs": functional, also known as a septoplasty, and cosmetic, aka the rhinoplasty. Functional rhinoplasties restore proper airflow and the form of the nose, and cosmetic procedures focus on changing the appearance of the nose. Often, rhinoplasties address more than one of these concerns. Studies have shown that functional-aesthetic rhinoplasty leads to a significant improvement of patient's health-related quality of life.[1]
Nasal asymmetry and breathing issues can be frustrating to deal with. If you think you would benefit from a rhinoplasty, reach out to Plastic Surgeons of Lexington, Kentucky's premier plastic surgery practice. We have helped men and women from Lexington to Louisville and beyond look and feel their best with cosmetic surgery. 
Patient education is vital when pursuing surgery, especially one as complex as rhinoplasty. Contact us online today or call (859) 276-3883 to schedule your rhinoplasty consultation in Lexington, KY!
Before and After Photos
About Rhinoplasty
The nose is a complex structure and for that reason, rhinoplasty is one of the most challenging facial surgeries to perform. However, in the hands of an experienced surgeon with the knowledge and skills to perform the procedure, patients from all walks of life can gain the nose they desire. There are two approaches, the open technique and the closed technique, which are usually dependent on patient anatomy and surgeon preference. While the open technique reveals the underlying nasal structures during the procedure, the closed technique involves only subtle incisions, through which the surgeon alters the internal tissues.
Whether the surgery is purely for aesthetic reasons, or if the reason is to address functional difficulties with breathing, the aim of a rhinoplasty is to create a natural, attractive nose for the patient that aligns with their facial features.
Benefits of Rhinoplasty
Corrected breathing pathways
Reduced function-related problems (e.g. sleep apnea)
Relief from nasal discomfort
Restored nasal symmetry
Dorsal hump correction
Enhanced balance between other facial features
Increased confidence
Candidates
The ideal candidate for rhinoplasty is a healthy individual who is seeking to improve the shape and contour of their nose. They are healthy, have no serious underlying health conditions, do not smoke, and have realistic expectations about the final outcomes. While rhinoplasty can improve one's appearance in dramatic ways, there are some important considerations. Open and clear communication between our doctors and their patient, combined with a patient's recognition of realistic outcomes, is the best combination to ensure satisfactory and appreciated results. The results achievable will be based on your unique nasal structure, and if you have ever had a nasal surgery before.
Most patients report an immense boost in self-confidence as a result of the improved facial proportions that nose surgery can offer!
Personal Consultation
Your consultation starts with a discussion regarding the shape, size, or contour of your nose at our Lexington location You may also want to discuss breathing problems with your doctor, if you experience them. A physical exam is then performed which includes a close look at your nasal cavities, nasal septum, and internal and external nasal valves.
During your consultation, we will discuss the surgical options available to you based on your goals, and we will draw up a personalized treatment plan for you informed by the background information and medical history you provide.
Procedure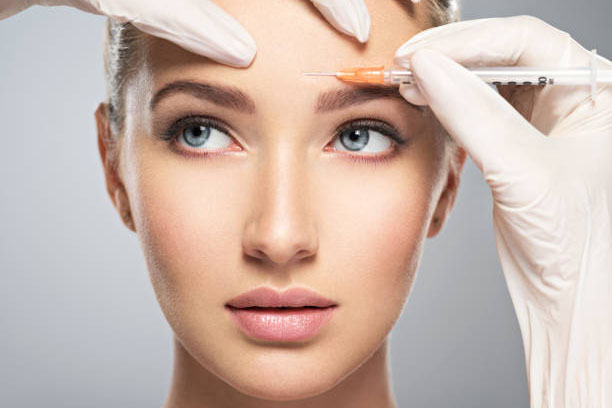 A rhinoplasty reshapes the underlying bone and cartilage that make up the nasal structure. Using the open or closed technique, your surgeon will use delicate surgical tools to alter the shape of the internal tissues. In some cases, such as dorsal hump reduction, tissue is removed from the nose for a straighter contour. And others, such as cases of a so-called saddle nose (a collapse of the nasal bridge) from a prior nose job, require reconstruction using grafts from other parts of the body, such as the ear cartilage or rib. Other types of rhinoplasty involve changing the size or projection of the nasal tip, or the resizing of the nostrils.
The length of a rhinoplasty procedure is very dependent on the patient's history of prior nasal surgery. Generally, the entire procedure usually takes between 2-3 hours and is typically performed under general anesthetic.Whichever method is used, once the nose is sculpted according to your aesthetic preferences, the outer tissue of the nose responds to its newly formed shape over a period of months.
Recovery
The most obvious signs of surgery fade relatively quickly, but your face will experience postoperative bruising and swelling initially which will not reflect your final results. In the first few days, when the swelling decreases, we take the large facial bandage off. You may be required to wear nasal splints for a period after the large bandage is removed to ensure your nose heals well. Functional rhinoplasty can improve nasal airflow as early as two months postoperatively; and after cosmetic rhinoplasty, an improvement in nasal appearance is seen as early as two months postoperatively.[2] 
What to Avoid
Don't take part in activities that involve straining or heavy lifting, bending, and anything that raises your blood pressure during the beginning of your recovery period. If you give your body the time it needs to rest and heal, you'll be able to enjoy your new nose with minimal downtime and discomfort.
Learn more about recovering from plastic surgery.
Complementary Procedures
Botox
Botox blocks the release of the chemical responsible for tensing our muscles. Botox relaxes the facial muscles, smoothing out fine lines and wrinkles for a more taut, youthful appearance. 
Dermal Fillers
Dermal fillers are injectable gels that fill in the gaps caused by fine lines and wrinkles, providing the patient with plumped, volumized skin.
Facial Fat Grafting
Facial fat grafting takes excess fatty tissue from another area of the body to augment areas of the face that have lost volume, such as the cheeks and temples. It's a natural alternative to fillers and is a more permanent cosmetic change.
Browlift
Smoothing the forehead, elevating the brow, and rejuvenating the face, a brow lift gives patients a refreshed and rested look.
Facelift
A facelift is a surgical procedure that removes excess skin and tightens the underlying muscles to eliminate wrinkles and restore balance to your features.
Costs of Rhinoplasty in Lexington, KY
The cost of your rhinoplasty at Plastic Surgeons of Lexington will depend on several factors. One of our expert doctors can explain all of these variations during your personal consultation. Your final fee will cover all services associated with your rhinoplasty. Financing plans are available for qualified rhinoplasty patients, and your insurance may cover some of the costs if the rhinoplasty is to improve nasal airflow. To get started with a one-on-one consultation at Plastic Surgeons of Lexington, please call us directly at (859) 276-3883 or fill out a simple form for more information.
Be sure to stay updated by reading our blog, and find us on Facebook, Instagram, and YouTube.
FAQ
Will my insurance cover rhinoplasty?
Insurance will not cover rhinoplasty for cosmetic reasons. However, it may cover septoplasty and other procedures performed to correct structural complications and improve nasal function. When reconstructive procedures are performed with cosmetic rhinoplasty, insurance can cover a portion of the cost.
What are the risks and potential complications?
All patients will have some degree of bruising and swelling after a rhinoplasty, but this is to be expected. Splints may be used to control the swelling and cold compresses can be placed for comfort. More serious risks include infection, asymmetry, and bleeding. Reach out to your provider immediately for professional guidance if you are experiencing any unexpected symptoms.
What is the nose surgery recovery process like?
One of the biggest rhinoplasty myths is that it's extremely painful. Our patients do not report any serious pain, only mild discomfort, which can be managed with pain medication if necessary. There will likely be some bruising and swelling and you'll have a stuffy nose for a few days, which gets better as the swelling subsides. You'll wear a splint for one week after surgery in order to maintain your nose's new shape and minimize swelling. Your surgeon removes the splint at your post-operative visit.

When can I wear glasses after rhinoplasty?
You should not wear glasses directly on your nose for several weeks after surgery, especially if you received bone grafts. If you require corrective lenses, consider wearing contacts instead of glasses for the first month after surgery.
When will I be able to breathe through my nose after rhinoplasty?
Breathing through your nose after rhinoplasty may become easier as early as one week after surgery. Nasal breathing will improve over the following weeks and will generally go back to normal by one to two months after surgery. Patients who undergo a combination rhinoplasty/septoplasty should find nasal breathing to be easier one to two months after surgery.

When should I see the final results of my rhinoplasty?
Once your procedure is completed there are many complex structures to heal. It can take about one year for the final results to become apparent since the cartilage, skin, and muscles must settle during this healing period. While there is swelling and bruising at first, your nose's appearance will only continue to get better over time.
References
Wähmann, M.S., Bulut, O.C., Bran, G.M. et al. Systematic Review of Quality-of-Life Measurement After Aesthetic Rhinoplasty. Aesth Plast Surg 42, 1635–1647 (2018). https://doi.org/10.1007/s00266-018-1199-6
Kandathil, C. K., MD, Saltychev, M., MD, PhD, Patel, P. N., MD, & Most, S. P., MD. (2020). Natural History of the Standardized Cosmesis and Health Nasal Outcomes Survey After Rhinoplasty. The Laryngoscope, 131(1), E116-E123. doi:https://doi.org/10.1002/lary.28831