Neck Lift
Conveniently located to serve the areas of Lexington, KY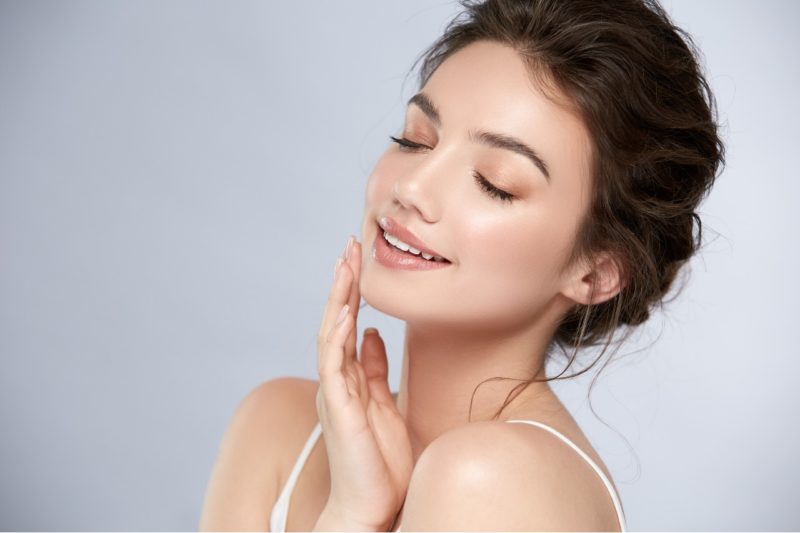 A neck lift is a contouring procedure that creates a more youthful neck and jawline by tightening lax skin and muscles. As we age, skin and overall volume accumulates in the lower face and neck creating a jowl and fullness in the neck. A neck lift removes excess skin and rids the lower face and neck of volume. Plastic Surgeons of Lexington is passionate about helping patients look and feel their best, and has the extensive surgical experience necessary to effectively treat this delicate area. Since 1952, they've offered countless patients from the Lexington area and surrounding communities the opportunity to achieve their desired appearance. Contact our office and schedule a consultation to learn more about this rejuvenating procedure and whether a neck lift is right for you. Or you can give us a call at (859) 276-3883.
About the Neck
Many people choose to concentrate on the face when considering surgical rejuvenation procedures. However, the neck is also subject to the same environmental and intrinsic tolls as the face, and often prominently displays a patient's age. Luckily, it can also get some much-needed TLC! A neck lift includes what is referred to as a platysmaplasty because this procedure gently tightens the platysma muscle: the sheaths of muscle that stretch from our jawline to our collar bones. [1] During this procedure, excess fat can be removed, and skin tightened. This procedure addresses unsightly wrinkles, neck banding, a "turkey waddle" and a "double chin." Patients can achieve a more youthful look with smoother, more refined neck contours and jawline definition. It also corrects jowling or the jowls.
Before and After Photos
Benefits
A neck lift procedure can endow an attractive, younger-looking profile that can be enjoyed for many years. There are also several other advantages stemming from a neck lift: [2]
Toned and smoother skin under the chin
Removal or reduction of the appearance of band lines
Enhanced self-confidence
Younger looking appearance
Well concealed scar
Reduction of neck volume and jowls
Customizable procedure that can be tailored to your concerns
Qualified Candidates
Patients experiencing unflattering wrinkles, lax skin, and excess volume in the lower face and neck may benefit greatly from the procedure. And while often used as an anti-aging procedure or preventative measure, young patients wishing for better jawline definition may also benefit from a neck lift. A neck lift is a surgical procedure, so it's important that patients are in good health, ready to commit the time to heal properly, and have realistic expectations about what the procedure can do.
Your Private Consultation with Plastic Surgeons of Lexington
Our medical staff is committed to providing cosmetic services that improve the lives of the community. We also have THREE Board Certified Plastic Surgeons in our office. Dr. Joseph L. Hill Jr., Dr. Michael P. Lynch, and Dr. Evan Moore understand the importance of high-quality care with warm, friendly service. At your consultation, a medical  staff member will review your medical history and discuss any current medication you take. Then, they will perform a visual examination of your neck. You'll have the chance to discuss your concerns, and the surgeon will explain the best course of action and will develop a treatment plan that best serves you. 
Take the first step, and start visualizing a new you. Our friendly staff is here to help. Pencil in a consultation. Or you can call (859) 276-3883 to schedule your informative personal consultation.
Stay in touch with us! You can see our other patients' results and learn more about our practice by following our Instagram.
Prepare
Everyone at Plastic Surgeons of Lexington wants you to have the best experience possible, and a smooth procedure and recovery. To do that, we'll give you instructions to follow before your big day!
Refrain from smoking or drinking as this can cause complications with your procedure
Stop taking certain medications and supplements such as anti-inflammatory medications such as ibuprofen
Arrange to have a caring, trusted adult drive you home and care for you during the first 24 hours following treatment
Prepare a comfortable place to rest and recover with essentials close at hand
Fast as instructed before surgery
Plan to take a week off from work
Surgical Process
To ensure your comfort, you will be administered the appropriate anesthesia. Once it has taken effect, the surgeon will begin your surgery. They can approach your neck lift in two ways: a traditional neck lift or limited incision neck lift. [3]
Traditional neck lift incisions will usually begin in front of the ear, extending around the ear and finally towards the nape of the neck. Another incision is often made underneath the chin. This allows the surgeon access to remove fat and tighten muscles. The overlying neck skin is redraped, and any excess skin is excised. Incisions are sutured closed and any scarring is concealed in the hair, or in the crease where the underside of the chin meets the neck.
A limited incision neck lift is for patients with minor to moderate concerns. This method involves incisions made only around the ear.
Recovery
Your pathway to recovery will be closely monitored during followup visits. By getting plenty of rest and carefully following the aftercare instructions provided, you'll ensure that you have a speedy recovery and will be able to look forward to beautiful results.
As the effects of the anesthesia continue to wear off in the day following the procedure, patients may feel some tightness in the neck. You will be dressed in a bandage to help with swelling and protect the treatment area. We will prescribe pain management medications that will reduce pain and anxiety. Please keep your head elevated when lying down and avoid certain activities as instructed.
Most patients return to sedentary work after two weeks, at which point stitches have also been removed.
Results
You'll be able to see your final results emerge over the next several months. By this time, the swelling should have fully disappeared.
As long as you maintain a healthy lifestyle and taking good care of your skin, you will be able enjoy your smooth, refreshed contours for as long as 10-15 years. [4]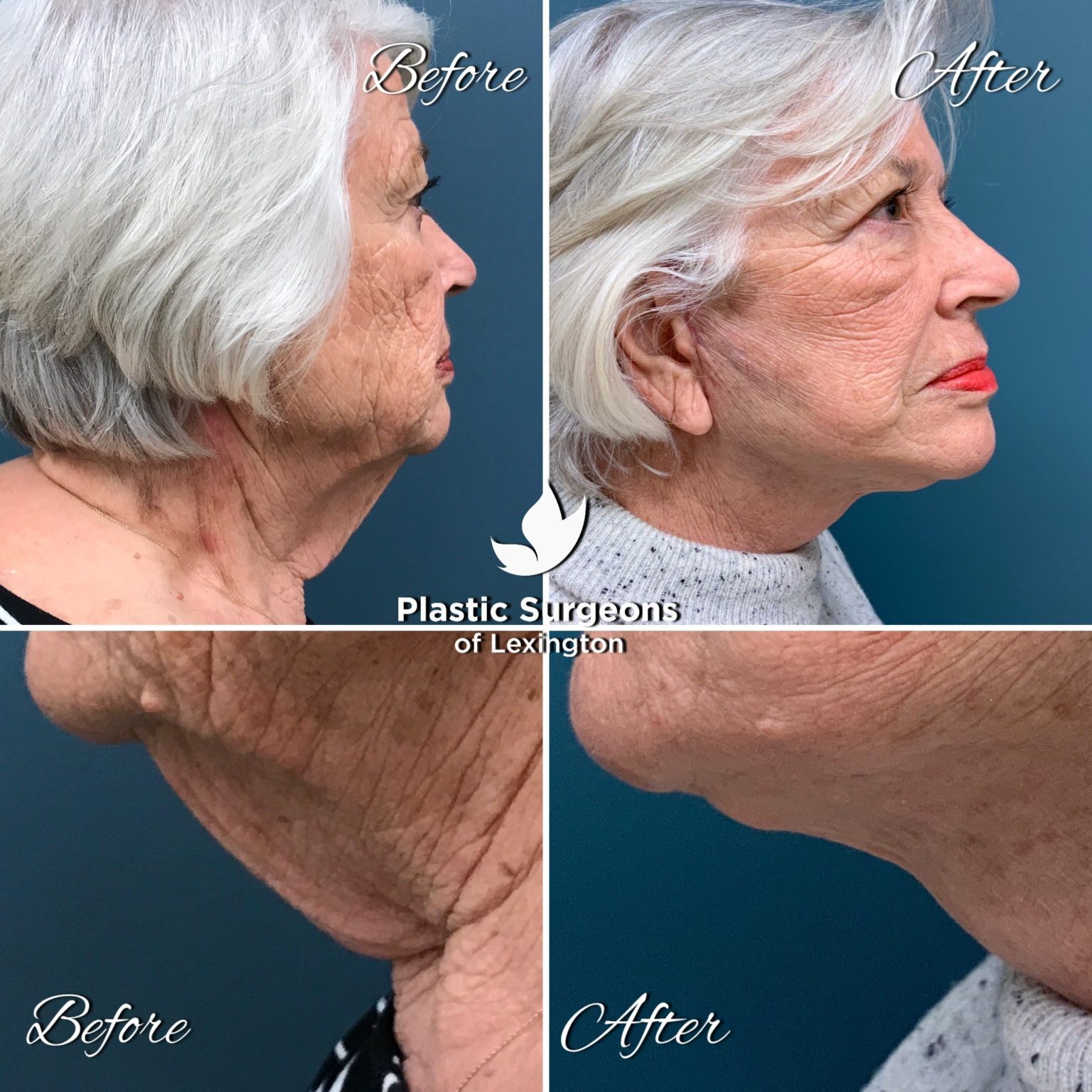 Corresponding & Complementary Procedures
Getting a facial rejuvenation is a great way to get a fresh start. Here are some other procedures that could benefit you:
Facelift
Patients wanting a complete transformation may want to consider combining their neck lift with a facelift. These can be performed during the same procedure. A facelift uses the same incisions as a neck lift but extends into the temporal hairline. During a facelift, the underlying tissues of the face are repositioned for more voluminous cheeks, and reduced jowling and nasolabial lines. Skin is then redraped for a smoother surface with a firmer appearance and fewer wrinkles.
Botox/Filler
For those who aren't ready to commit to a surgical procedure, but would like to test drive a subtle improvement, Plastic Surgeons of Lexington offers Botox and Filler. It's a safe, temporary way to refresh your face by adding volume where appropriate and eliminating the lines and wrinkles that occur with aging.
Facial Fat Grafting
Facial fat grafting is often used in conjunction with a face lift and necklift to add volume in the appropriate areas of the face.
Cost of a Neck Lift in Lexington
At your private consultation, all concerns will be discussed, including cost. You will be given an accurate estimate at that time. Your procedure is unique to you. That is why the cost of a neck lift may vary from patient to patient. To learn more or schedule your personal consultation, contact us online or call (859) 276-3883.
FAQ
Do I have to be a certain age to get a neck lift?
Neck lifts are typically performed between 40-85 years of age. This is when wrinkles and folds begin to appear in the lower regions of the face and neck. Patients in this age group see the most dramatic changes in their skin. However, some patients elect to undergo a neck lift at an earlier age as a preventative anti-aging measure. 
Will a neck lift leave scars?
Scarring will be kept to a minimum. Incisions are carefully concealed behind the hairline. A scar cream may be given in the weeks following your treatment to reduce their appearance. 
References