Upper and Lower Eyelifts
Conveniently located to serve the areas of Lexington, KY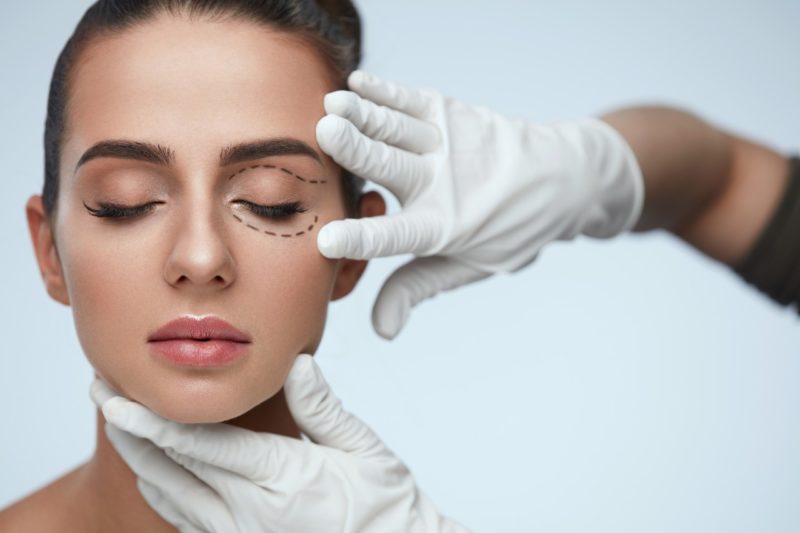 Upper and/or lower eyelid surgery, blepharoplasty, is an effective procedure that removes lax skin and puffiness from the upper and lower eyelids. The effects of aging, heredity, or weight changes may cause excess skin to formulate around the eye. As a result, a tired, moody, or angry expression is projected. The condition can also be concerning enough to cause vision problems. An eyelid lift corrects these problems by removing excess skin and tightening the remaining tissue to create an ideal aesthetic for your face. Look forward to feeling revived and refreshed with an eyelid lift. Our friendly staff of Plastic Surgeons of Lexington is here to restore your youthful look. Schedule your private consultation at our office in Lexington, KY. We can also be reached at (859) 276-3883.
About
Turning points in life, aging, weight changes, or genetics can cause loose skin around the eyes. The loss of collagen and elastin coupled with a breakdown in muscle tissue causes ptosis, or sagging eyelids. The result is an unflattering angry, sad, or upset look even when you couldn't feel better. A blepharoplasty is a versatile, highly effective solution that will add a youthful luster to the face by removing unneeded skin in the upper or lower eyelids (or both) in one session. A lower blepharoplasty removes under-eye "bags" or fat deposits in the lower portion of the eyes, while an upper eyelid blepharoplasty eliminates the hooded appearance of the eye caused by creased, loose skin, and weakened muscles. [1][2][3] In under two hours, you'll leave with what will heal into a smooth, refreshed look.
Before and After Photos
Benefits
A simple eyelid lift can achieve a natural-looking, youthful appearance free of sagging skin, fine lines, and wrinkles. Other surefire benefits patients can benefit from this corrective procedure include:
Full Facial Rejuvenation
A noticeable difference in your overall appearance will improve significantly with eyelift surgery. Removing excess skin and adjusting the muscle tissue on either the lower or upper eyelid will unveil a rejuvenated appearance for your face. [3]
Provides a Younger Appearance
Unwanted skin, fat, and excess tissue forming around the eyelids can cause fine lines and wrinkles. This surgical correctional procedure smoothens them out by trimming and tightening excess skin and loose muscles. As a result, you can look forward to a younger, energetic version of yourself.
Better Vision
Having pronounced skin hanging over the eyelids can block your vision. After surgery, you will notice a remarkable difference in the clarity of your eyesight, not to mention the appearance of being more alert.
Increased Self-Confidence
Eyelid lifts have gifted many patients with a newfound sense of self-assurance. A new younger, attentive look with unblocked vision is yours to keep for years to come. You no longer have to hide behind sunglasses or makeup.
Ideal Candidates
Interested patients unhappy with the sagging, loose skin around their eyes would benefit greatly from an eyelift. Furthermore, patients having vision problems are highly recommended to consider this corrective surgery. Plastic Surgeons of Lexington also ask prospective patients to:
Be in good health without significant health problems such as glaucoma
Have excess skin that gives off a tired, upset, or sad look
Have puffiness in the upper eyelids
Have under-eye bags or drooping in the lower eyelids
Have wrinkles and fine lines around the eyes
Have realistic expectations
Come to a personal consultation with Plastic Surgeons of Lexington. Our doctors will show you how an eyelid lift will improve your look and vision. You can call our office at (859) 276-3883 to schedule an appointment or use our convenient online contact form.
Personal Consultation
Plastic Surgeons of Lexington is a family practice that has proudly served central Kentucky for three generations. We also have THREE Board Certified Plastic Surgeons in our office. All combined, Dr. Hill, Dr. Lynch, Dr. Moore, and certified aesthetic nurse Holly Hodge have dozens of years of experience in the medical field to help patients feel better, recover faster, and improve self-confidence.
Your consultation is your time to share details of your condition, and ideal results, so that we can better understand how to help. We'll gather a sense of what you're looking to gain during your consultation and your expectations for the procedure. Next, the skin laxity around the eyes will be examined. This helps us develop your personalized treatment plan and estimate your recovery time. After we've settled on an approach, we'll walk you through the steps of your eyelid surgery and how it will refresh your look. Before you leave our office, our front desk will give you a list of personalized ways to prepare before your surgery appointment. Please follow them carefully to ensure a smooth procedure and beautiful results.
Our helpful staff is here to take your questions and show you your new look. Come see us at your personalized consultation at our office in Lexington, KY. To read some personal accounts and see results from past patients, check out our Facebook and Instagram. We also encourage patients to read through our thought proving and informative blog posts.
Preparation
Our staff will give you a personalized set of instructions to follow before your appointment. Below is a general overview of how to prepare:
Smoking: Please stop smoking a few weeks before surgery and throughout recovery. Doing so may prevent you from healing properly.
Medication: Pause taking aspirin, ibuprofen, or any anti-inflammatories a few weeks before surgery. Taking them may impede your recovery.
Transportation: Arrange to have someone drive you home as the effects of the anesthesia will need time to wear off.
Take time off work: Plan on taking 1-2 weeks off.
Prescription: Go to your nearest pharmacy to fill the prescriptions for the medication we give you before your surgery.
Procedure
Your blepharoplasty is a customized process that focuses on the upper, lower, or both eyelids. Depending on your treatment plan, your session will last anywhere from 45 minutes to two hours. Before we begin, we'll administer local anesthesia or light sedation to make your surgery pleasant. [2][3] Here is what your session will look like with either approach.
Upper Eyelid Lift: This surgical process involved making a small, discreet incision in the upper eyelid crease. [2] They are hidden well in the creases so that they are nearly invisible. Next, we'll excise redundant skin and fat then tighten muscles. [1] Incisions are closed with sutures once the desired aesthetic is achieved.
Lower Eyelid Lift: An incision is made in the lower eyelid crease. Our surgical staff will then remove surplus skin and tissue. Once finished, your eyelid is sutured closed to reveal a refreshed look free of under-eye bags.
Recovery
Recovering from an eyelid lift is straightforward and should only require 1-2 weeks of downtime. Despite this, there are a few things to be aware of during your recovery:
Protection: It is imperative to protect your eyes from the sun. Wear dark sunglasses when outside for about six weeks. Also, avoid wearing contact lenses for a week or more. Instead, use eyeglasses.
Pain: Mild swelling, irritation, bruising, or discomfort may be felt for 7-10 days. Take the medication prescribed by our office as directed to offset the pain.
Comfort: You may be advised to apply a lubricant or ointment and apply a cold compress to reduce irritation or dry eyes. Please do this for a few weeks.
Movement: You should be okay to go back to resume light activities and desk work within seven days. More strenuous, involved activities can be continued within two weeks.
Results
Patients will continue to see enhancements to their eyes in the weeks ahead when swelling and bruising go away. No longer will you appear unhappy, tired, or angry. Eyelid surgery will uplift your appearance and create an unobstructed vision that can be enjoyed for years to come. 
Corresponding & Complementary Procedures
A number of options will be explored during your consultation to achieve a recharged appearance. Some treatments can be done separately or combined for a transformative makeover. Patients opting for blepharoplasty may also benefit from other procedures, including:
Facelift
A facelift is a routine surgical solution that addresses creases, smile lines, and sagging skin to promote a more youthful-looking visage. The gentle procedure removes excess skin and tightens the remaining skin to provide a smoother texture.
Brow Lift
A low and sagging brow can also project an angry or bothered appearance. A brow lift corrects this issue by excising extra skin and smoothing out the furrows across the forehead, helping keep a youthful and relaxed appearance.
Cost
Your individual needs and any additional procedures will determine the final cost of your blepharoplasty procedure. An accurate quote will be given following your private consultation. Plastic Surgeons of Lexington is pleased to partner with CareCredit to make your surgery more attainable. Find out more details from our financial page.
FAQ
Who is a good candidate for eyelid surgery?
Interested blepharoplasty patients looking to correct under-eye bags, sagging skin, and wrinkles around the eyes are ideal candidates. Patients are recommended to be in good health, have excess skin around the eyes, and have realistic expectations. 
Can I combine other procedures with my blepharoplasty?
Certainly! Patients have benefited from combining their treatment with a brow lift or facelift surgery. [3]
Is the Procedure Painful?
Your surgery is not painful because we administer anesthesia – so you won't feel a thing. You may feel some discomfort during your recovery process. However, we will give you instructions on how to minimize pain during your recovery period.
References
Bhattacharjee, K., Misra, D., & Deori, N. (2017). Updates on upper eyelid blepharoplasty. Indian Journal of Ophthalmology, 65(7), 551. https://doi.org/10.4103/ijo.ijo_540_17
Drolet, B. C., & Sullivan, P. K. (2014). Evidence-Based Medicine. Plastic and Reconstructive Surgery, 133(5), 1195–1205. https://doi.org/10.1097/prs.0000000000000087
Lyon, D. B. (2010). Upper Blepharoplasty and Brow Lift: State of the Art. Missouri Medicine, 107(6), 383–390. https://www.ncbi.nlm.nih.gov/pmc/articles/PMC6188243/